Elevate Unified Communications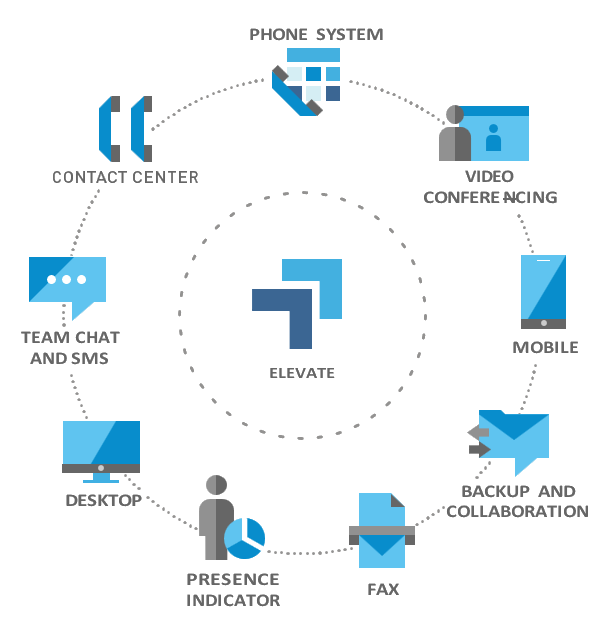 Elevate is an easy-to-use cloud-based unified communications system that helps employees to be more productive and collaborative. It includes a full-featured phone system combined with chat, web/video conferencing, and file collaboration and backup capabilities.
Elevate Includes
Includes 90+ enterprise-grade calling features
Free local and long distance calling to the US, Canada and Puerto Rico
The Elevate Mobile App makes any smart phone an essential collaboration tool
The Elevate Desktop App integrates with company directory, showing employee availability and enabling click-to-call
Powerful video conferencing, screen sharing and file sharing features facilitate better collaboration
Benefits to Your Business
Increased Productivity

Elevate makes a more productive workforce

Allows a user's mobile device to interact seamlessly with the corporate phone system
Virtually anywhere, anytime, and on any device creates a more flexible workforce
Integrated chat, video conferencing, screen sharing, file sharing, file backup and integrations extends reach and facilitates collaboration

---

Lower Costs

No phone system infrastructure hardware to buy, install, manage, upgrade or replace

Reduces infrastructure and operating costs
Consolidates voice and data onto one network
90+ enterprise-grade calling features INCLUDED in the service

---

High Reliability

Elevate's voice network is purpose-built for reliability

Redundant East/West datacenters increase reliability and reduce latency

---

Simplified Scaling & Management

Elevate scales according to the needs of any business

Mix and Match packages according to user needs: Essentials, Pro and Enterprise
Order service according to the number of users; no guessing number of lines needed
Ordering additional service is easy & can be done online; no technician or special expertise required
Manage service and features using user-friendly HostPilottm portal
Scales to a large number of users per business

---

Business Continuity

Never miss an important business call

Elevate automatically rings all your end points (desk phone, mobile, etc.) with every call and in the event that you don't answer, it routes the call to any number you choose (branch office, automated attendant, mobile number, etc.)

---

Enhanced Customer Experience

Access to Advanced Hunt Groups included with Elevate Pro and Enterprise
Upgrade your Elevate Contact Center plan to access even more features at any time
Contact Cneter delivers more responsive, informed, and postive customer experiences
Plans for businesses of all sizes, industries, and levels of sophistication
The Business-Class Features You Deserve
90+ Enterprise-Level Features Included

Call Forwarding
Call Park
Call Transfer
Do Not Distrub
Call Recording

3-way Calling
Caller ID
Extension Dialing
HD Audio
Call Waiting

Receptionist Routing
Music on Hold
Spam Caller Protection

And many more...
---
Voicemail

Conference Bridge

Voicemail to email via WAV file
SMS notifications
Auto-delete of voicemail after 90 days
Change of personal greeting
Remote voicemail access
Voicemail transcription (Included with Pro and Enterprise packages only)

Includes a unique local phone number
Gather up to 200 participants
Start conferences at any time with Always-On conferencing
Ability to add video and screen sharing to your conference, if desired

---

Busy Lamp Field (BLF)

Video Conferencing

Indicates presence - whether another user's phone is currently in use
Other user extension and name information is presented as virtual "buttons" on the desk phone LCD display
The BLF display can be used for speed dials, and also to make or take calls on behalf of another user

HD video conferencing eliminates unnecessary travel and empowers teams with remote members to be more productive
Share your computer desktop with team members in real time, improving collaboration and speed of decision making
Includes a conference dial-in number and custom URLs for meetings

---

Call Flip

Team Chat

Allows the user to seamlessly move an active call from the desktop phone to a mobile phone or vice versa
Called party will hear hold music while the caller utilizing the Call Flip feature switches devices mid-call

Pin favorite contacts to the top of your list
Chat messages automatically sync across desktop and mobile devices
View free/busy/away statuses of all your contacts
Chat messages are securely encrypted in transit and at rest

---
Powered by WHMCompleteSolution